Intake Screens
An economical and reliable system for wildlife protection and debris removal from surface water supplies
Intake screens are generally used to filter raw water extracted from surface supplies to eventually be used as cooling water, process water and other applications. Screens are 316(b) compliant with even flow over the entire surface.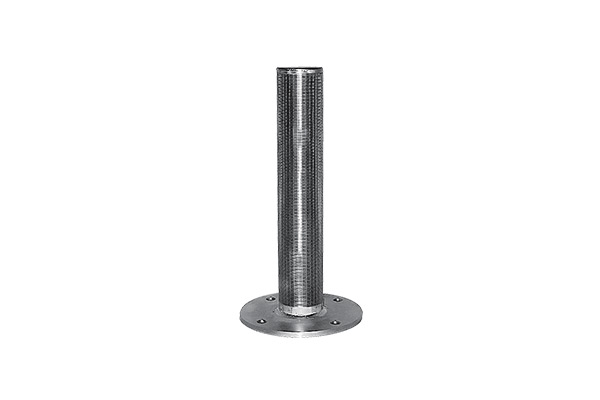 Type:
T-intake screens
Drum screens
Flat panel
Half-barrel
Materials:
304/304L
316/ 316L
321
410S
Hastelloy C-276
Duplex
Super Duplex
Alloy B3
Monel 400
Alloy 20
Options:
Airburst Cleaning Systems
Optimum protection for aquatic life
Our intake screens are designed to ensure a constant flow velocity to improve protection of wildlife while reducing costs. There are no moving parts that could break down or wear out, eliminating the need for replacement components and costly repairs.
Airburst System
Over time, as a result of biofouling, the outer screen surface may require periodic cleaning to keep the screen functioning properly. An airburst system can be included as part of the intake screen design, where clearing of accumulated debris from the screen surface is required.
Benefits of our Intake Screens include:
No moving parts

Available in corrosion-resistant materials

Reliable system for aquaculture protection

V-shaped surface wires allow for easy cleaning

Minimal pressure drop

Flexibility of design for specific depths and locations

Dependable water delivery

Minimal clogging and maximum water flow

Compliant with Section 316(b) of the Clean Water Act

Airburst cleaning system available
Download 3D PDF:
Intake Screen Cross Section
Requires Adobe Acrobat for 3D functionality. If the display screen is blank after clicking the download button, on the top right menu bar, hit "download".
Typical Industries for use
Product Quote
Once we receive your request we will contact you within 48 hours.
Intake Screens
Mainly used to clean water extracted from the sea, rivers or lakes to be used as cooling water for process water or industrial sites, power, raw water, desalination plants, drainage channels and irrigation offtakes.
Can't find the intake screen you need?
We specialize in custom manufacturing. Our sales, engineering and production teams have the experience to manufacture what you need to the highest degree of excellence. Keeping all work in house allows us to offer accuracy and consistency.